The Heritage Town
Hoi An ancient town, which is an exceptionally well-preserved example of a South-East Asian trading port dating from the 15th to the 19th century, was recognized as a World Heritage Site by UNESCO in 1999. The eerily quiet streets embracing historical buildings reflect a rich past of this unique heritage town which carries both indigenous and foreign influences.
The architecture Hoi An is made of almost entirely of wood. It combines traditional Vietnamese designs and construction techniques from other countries, above all China and Japan, whose citizens resided here to trade and built houses and community centers with their own designs.
Hoi An (會 安) translates as "peaceful meeting place", also known historically as Faifo.
The Hotel
There is no better place to unlock the real Hoi An town. The hotel's location is the perfect base to discover the Heritage town and all the things that locals love to eat, drink, shop and do. ​
The hotel is about:
3-minute walk to the colorful night market.

6-minute walk to the old town.​
Launch Year: 2018
Owner & Management: Vinh Hung Hotels Resorts Group
Sleep
Room quality is the #1 reason for choosing a hotel. 
Indulge yourself in our 33 rooms featuring high standard amenities. Value for money guaranteed!
Relax & Eat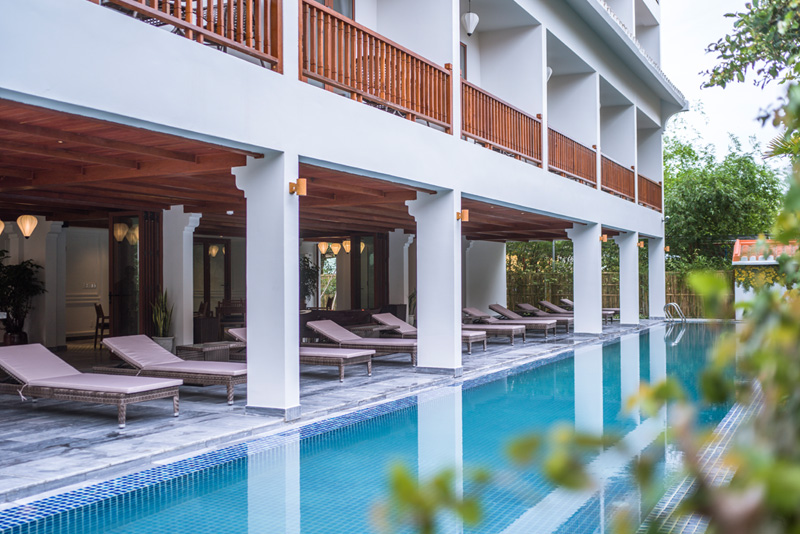 Swimming pool
Pool bar
Food & Drinks
Buffet breakfast